BOT - Serve The Best Crypto Community
Transfer crypto assets on Discord servers, Telegram groups, Twitter KOLs… Cwallet Bot offers the best way to manage crypto assets through your social life, and you can create your exclusive bot with all the features Cwallet Bot offers.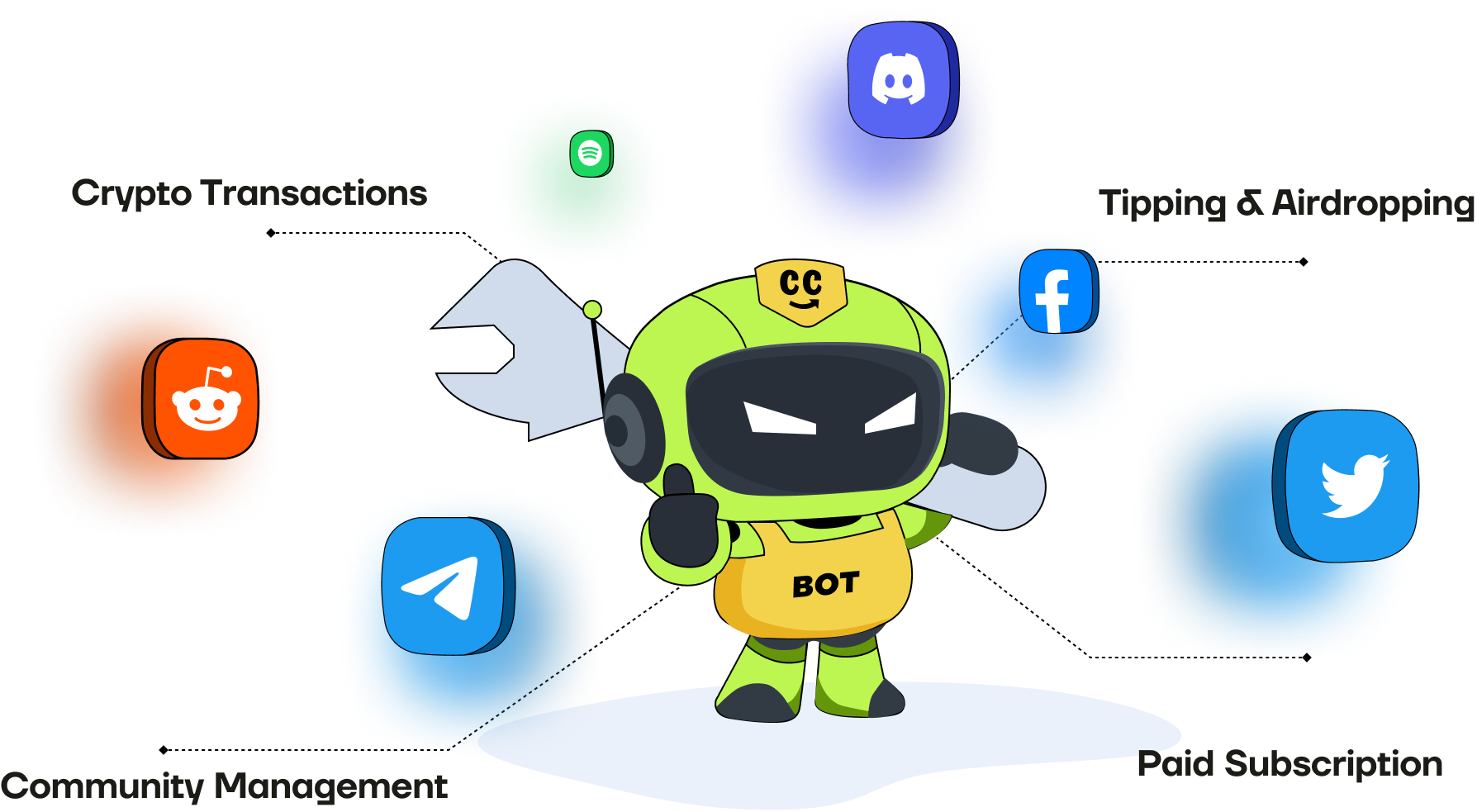 The most actively used bots in crypto communities
Send And Receive Tips And Airdrops Earn Crypto Through Your Daily Social
Cwallet Bots help you to create a tip or airdrop by one line of command in the group, easily receive and send coins and tokens through daily chat. Fun, fast and newbies friendly, play and earn through your daily social.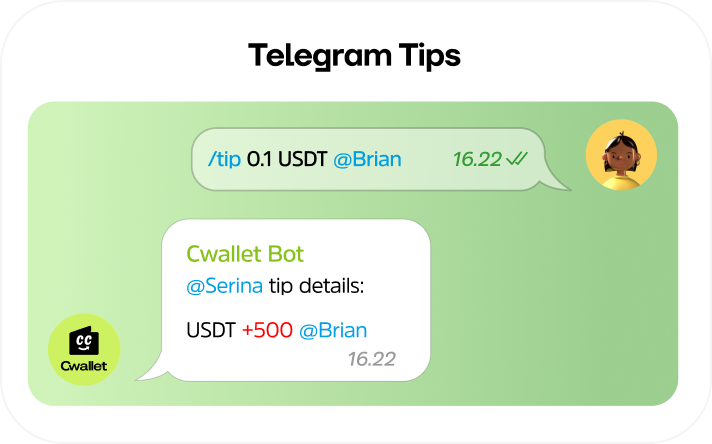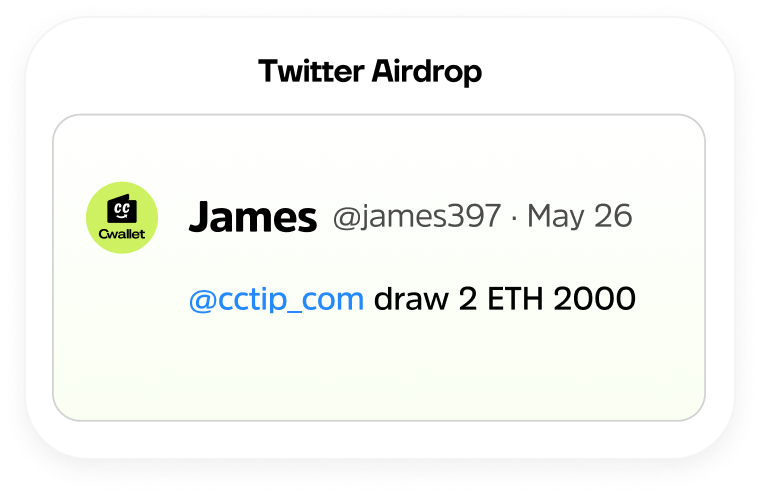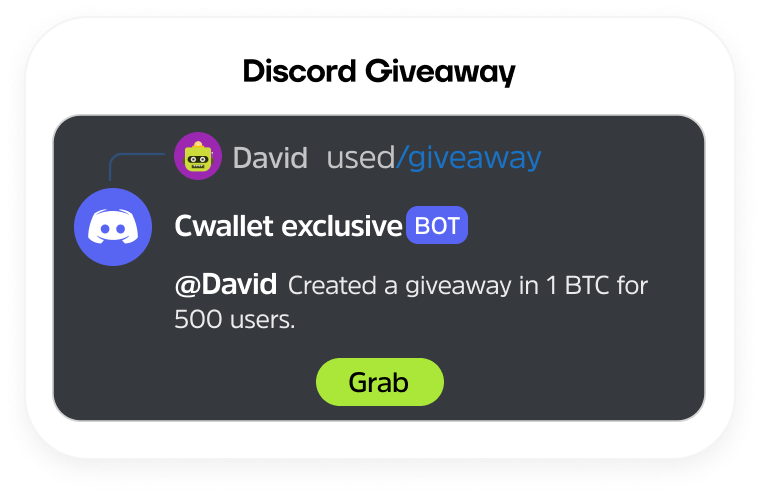 Multiple Social Platforms Integrated
Cwallet Bots are live on Telegram, Discord, and Twitter. With a single click, you can engage all crypto features.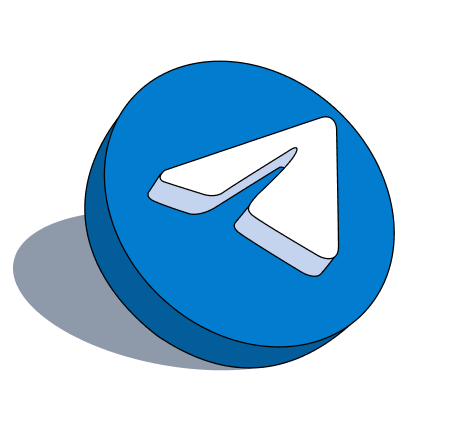 Telegram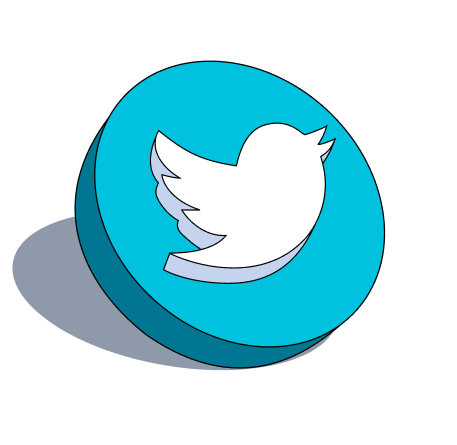 Twitter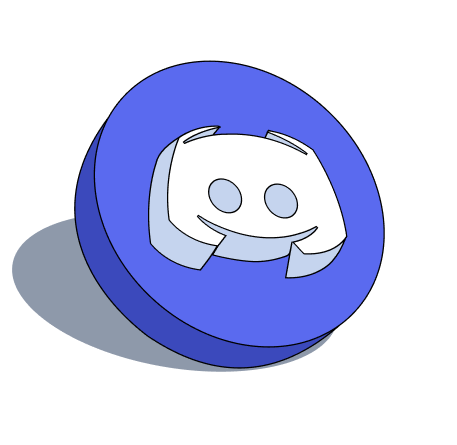 Discord
Create Your Exclusive And Customized Bot With All Features Like Cwallet Bot Without Coding
Cwallet's free bot developer API enables you to create your own tipping/airdropping bot within seconds. Simple, fast and free.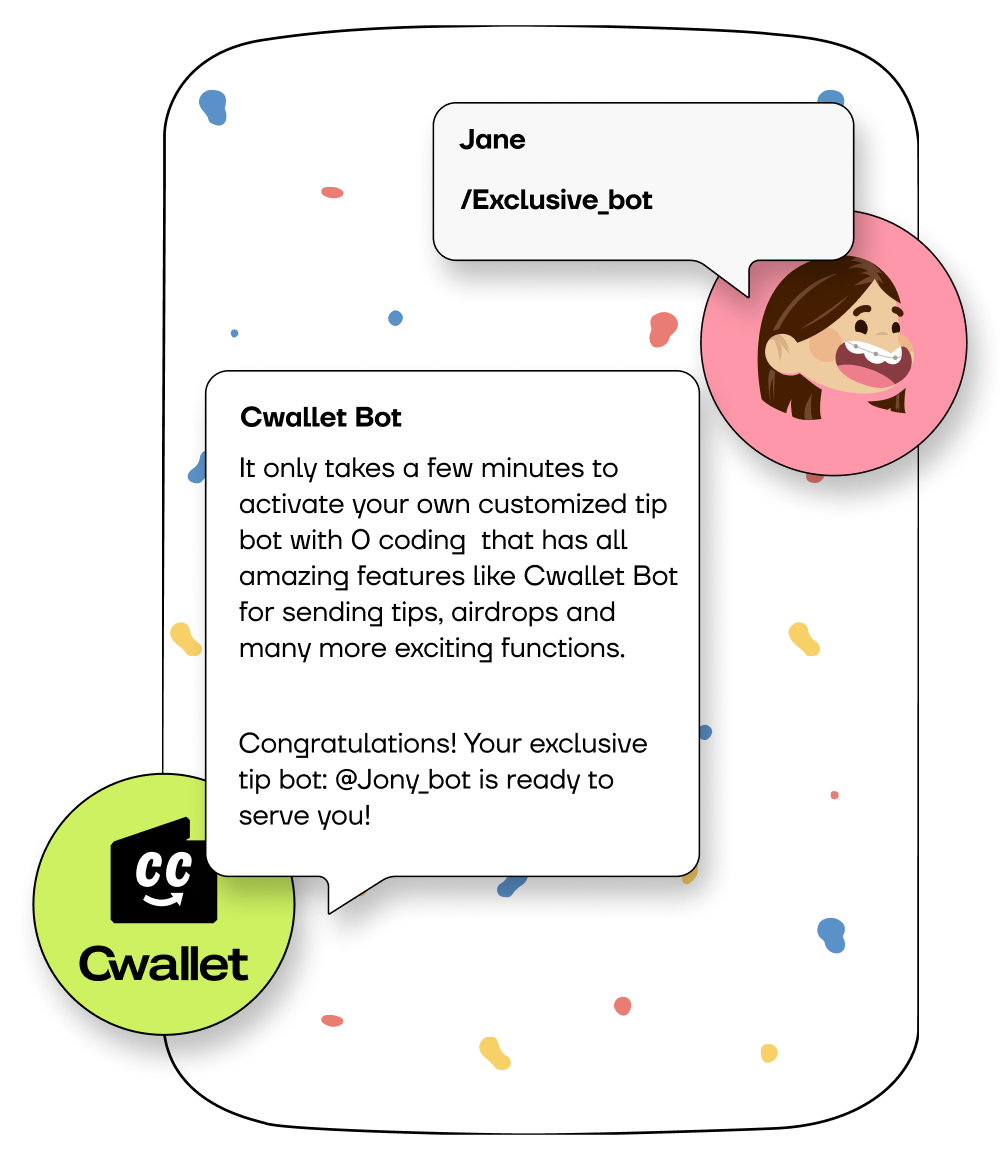 Available now for: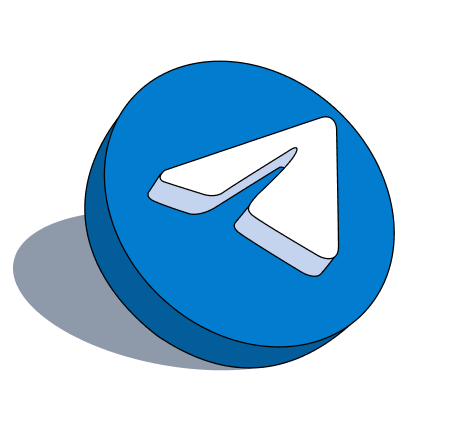 Telegram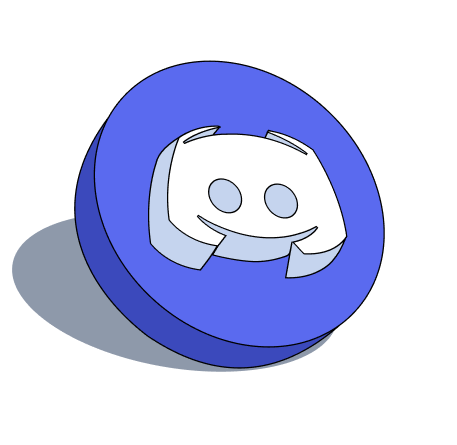 Discord
Serve The Best Crypto Community With Your Own Powerful Bot For Branding
Tokenized Community, Reward and Task group, Private Union…
Transfer crypto assets
Send and receive crypto tips and airdrops
Query for token information
Specific tip settings for group
Present your personality/brand on your bot
Community management: DAO, subscription and referral program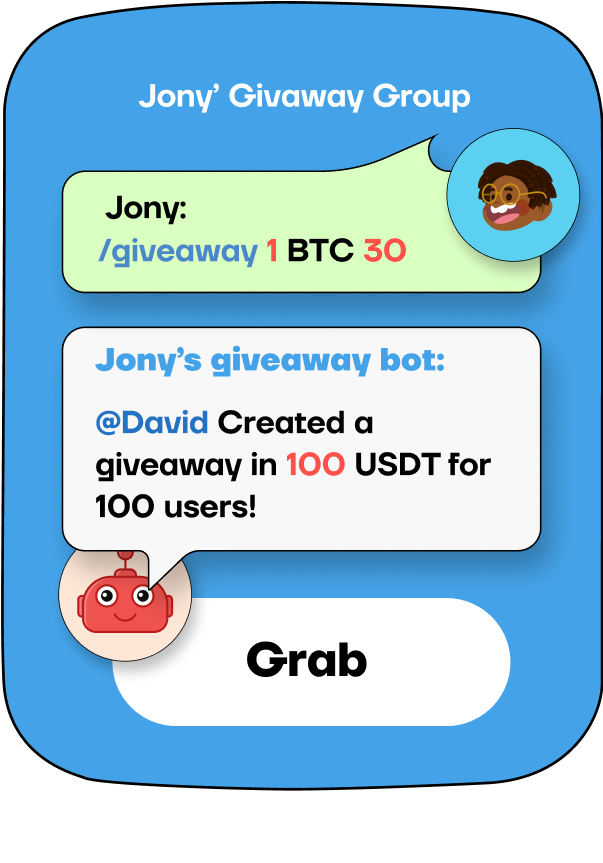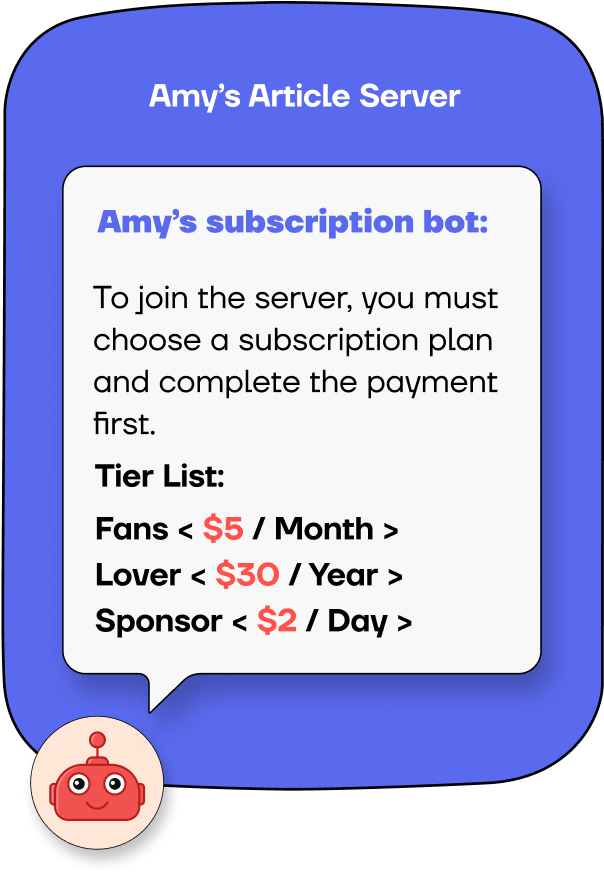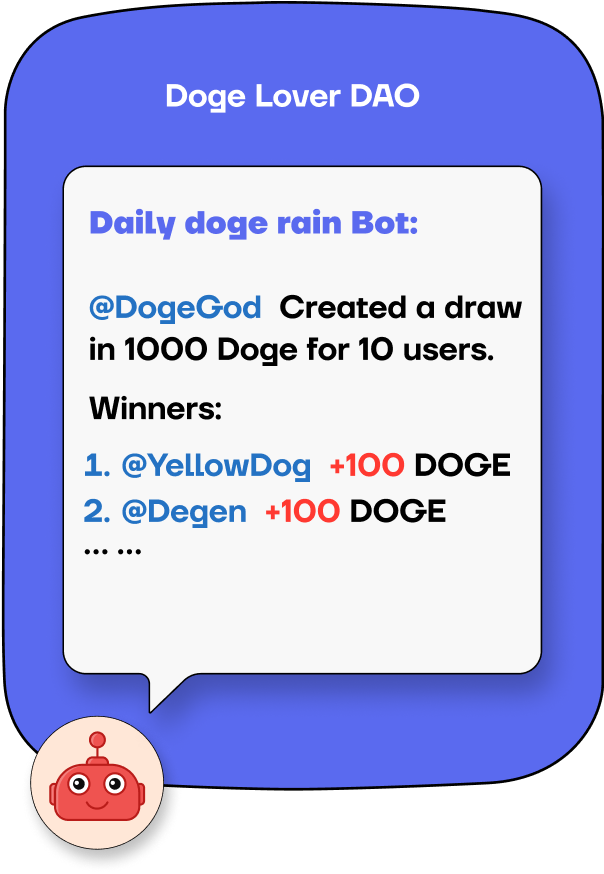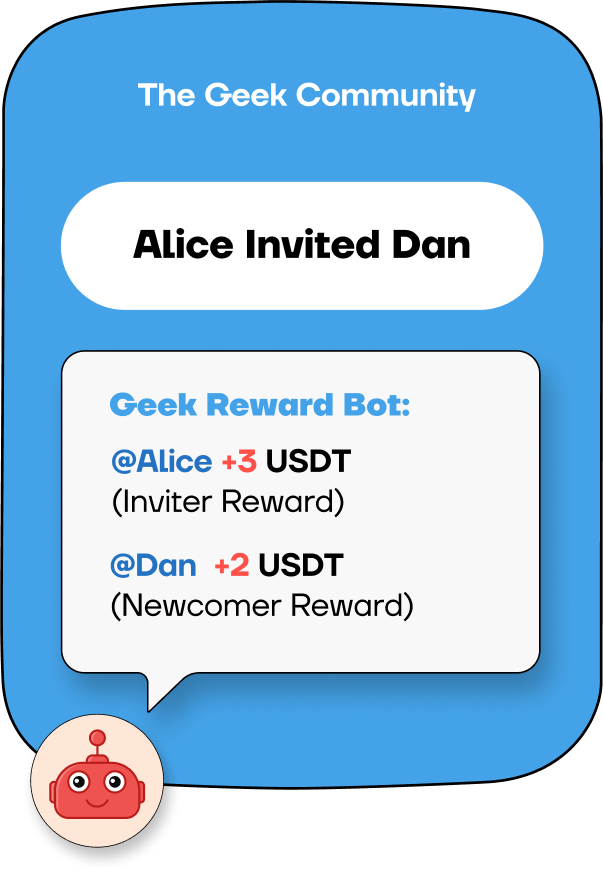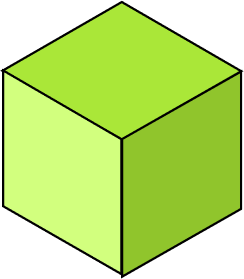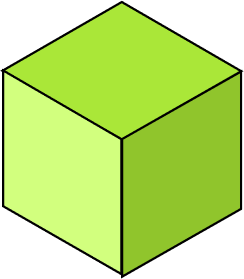 Community Growth And Management
Cwallet Bot is an effective and intuitive solution for your community, and the best way for tokenized communities, crypto start-ups, and crypto creators to facilitate community objectives. An easy way to manage, grow, specify, and monetize your communities!
Referral Program
DAO
Group Moderation
Content Monetization And Membership
Cwallet Bots help you to grow, specify and monetize your community in the web3.0 content creators' economy. Through crypto-paid subscriptions, we build a better environment for creators and fans.
What do People say About Us?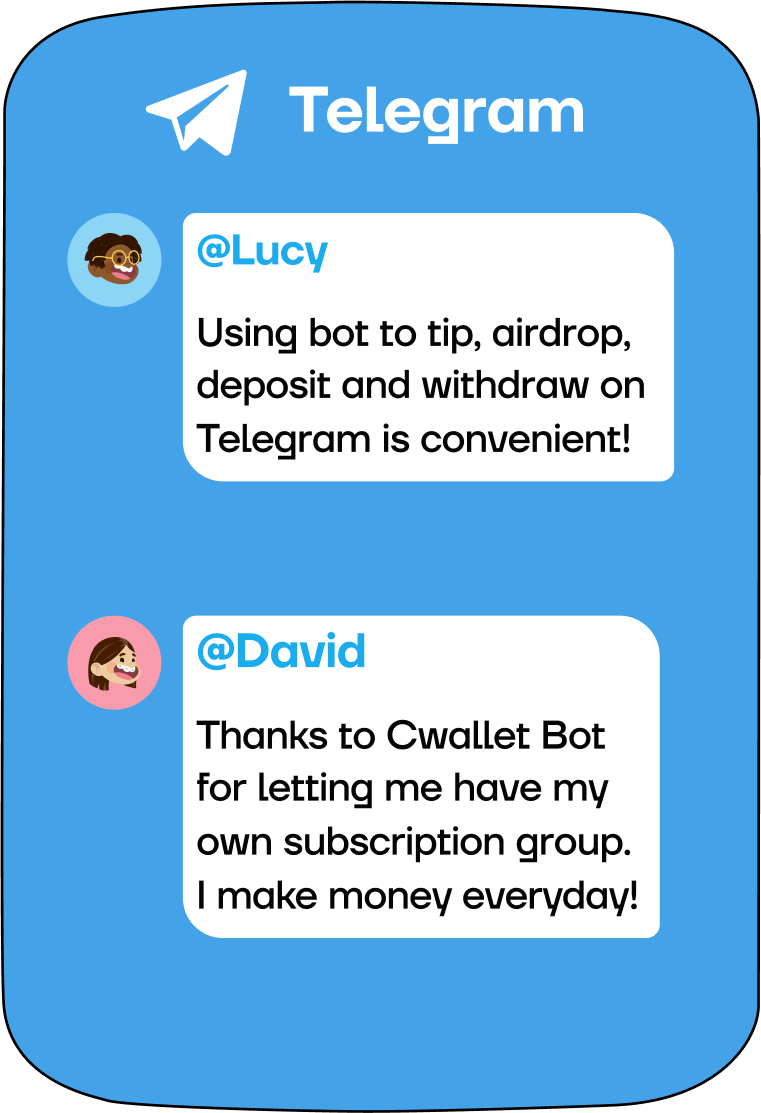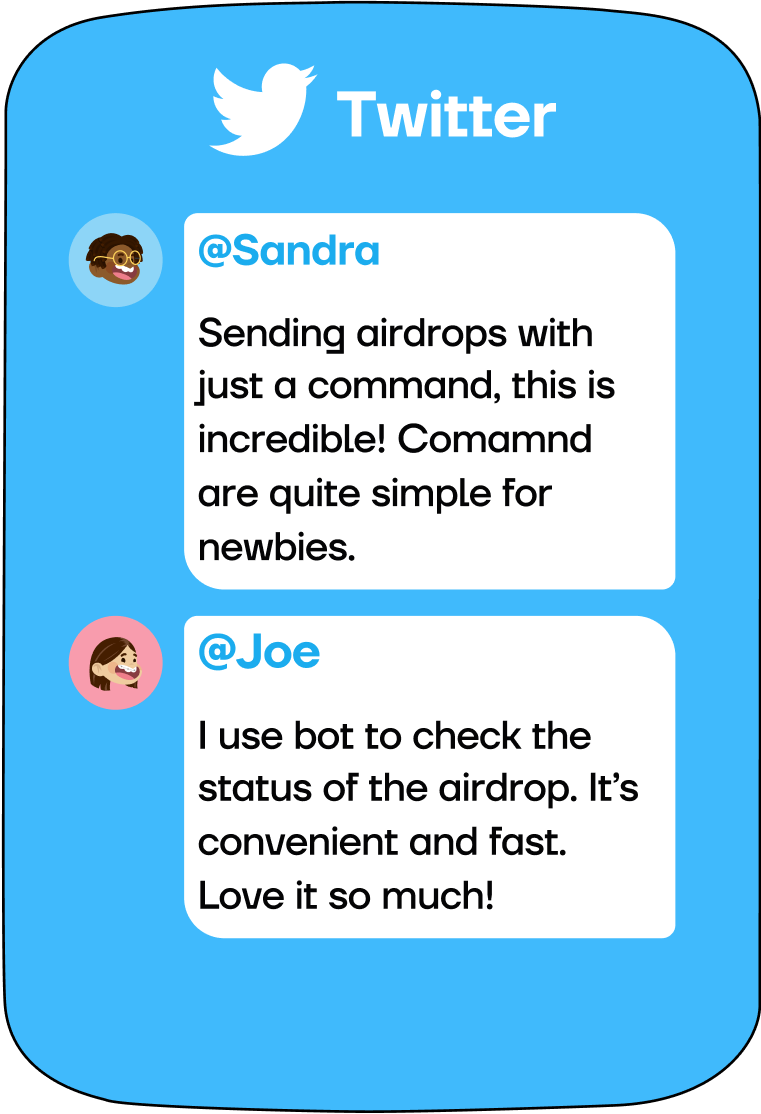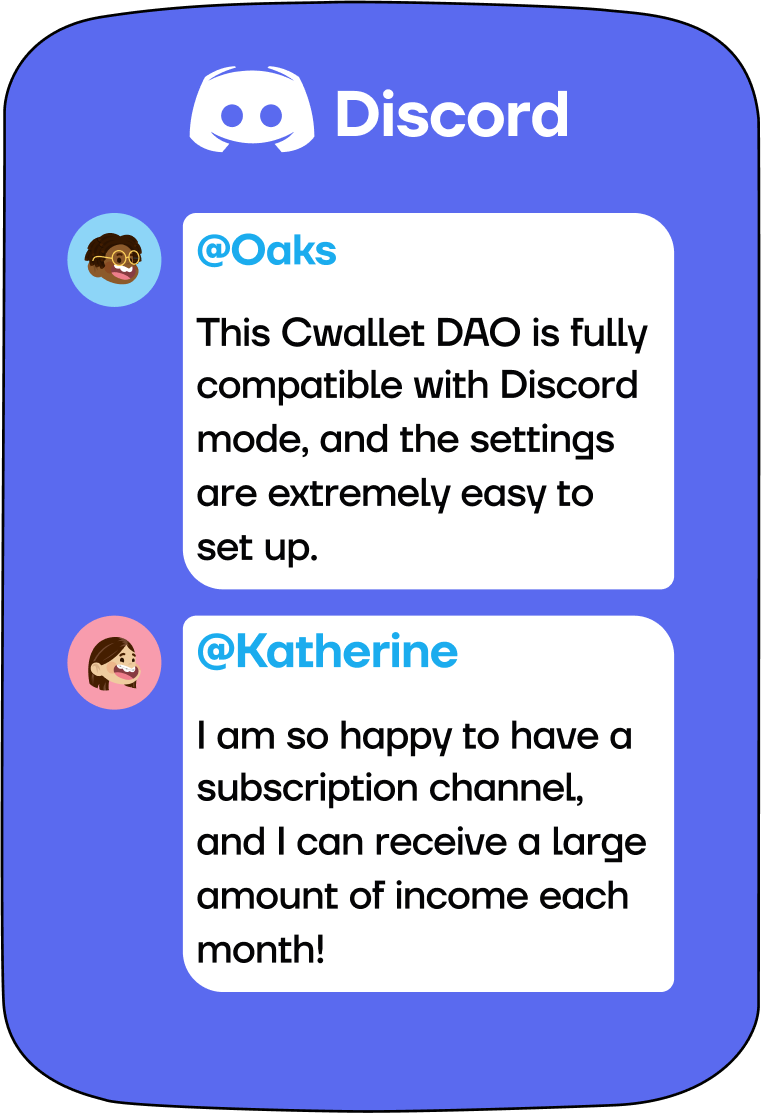 Your voice makes a difference
Top Reasons Of Choicing Cwallet Bot
Fast
Crypto transactions in seconds
Easy
Simple command does it all
Free
0 service fee, lowest gas among all wallets
Useful
Simply earn crypto and enjoy community growth
Invite bot to your community now
Use The Cwallet Crypto Wallet To Access All Features
Hold, receive, earn, tip, airdrop through your daily social It connects to your Cwallet, enabling perform all your crypto-related needs.
FAQ
What can you do with Cwallet bot?
Depending upon the characteristics of each social media platform, Cwallet bots perform different functions. >> on Twitter: create tips&airdrops, check airdrop status >> on Telegram&discord: · Deposit & Withdrawal · Get token price info · Set up DAO group and paid subscription group · Grow community with creating tips&airdrops and setting up referral program
Can I have multiple Cwallet bots in the same group at the same time?
Each group will have one Cwallet bot only, regardless of whether it was created by the group owner or not. Since each bot performs the same function, we will notify the group owner when other Cwallet bots join and let the group owner decide which bot to keep in the group.
How to connect a Cwallet Bot?
For Telegram, the Cwallet bot or Cwallet exclusive bot can be used for free by adding it to your group. For Discord, the official Cwallet bot, CC BOT#4880, can only be used on the official Cwallet server. If you wish to invite the Cwallet bot to your own server, you may only invite the Cwallet exclusive bot that you created. To create their own exclusive bot, users should locate CC Bot#4880 on the official Cwallet server and send a private message for further steps.
Is it completely free to use Cwallet Bot?
Whether you send or receive tips & airdrops, or set up group management, there is no any service fee applied. At Cwallet, we deeply care about our user needs, and we want to build valuable and helpful things to serve our users.